Choose from a range of customised products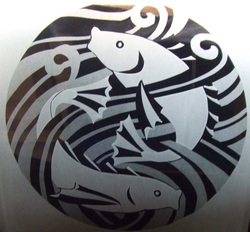 Decorative Sandblasting on clear glass
Stained Glass windows
Free standing Stained Glass panels
Decorative mirrors, wall hangings and suncatchers
Please feel free to ask me if there is something you have in mind that is not currently listed
.
Repairs
All repair work will be considered. Please contact me to discuss your needs.
Services
Traditional painting fired on glass

Sandblasting on glass

Etching on glass

Lead or Copperfoil glass work

Decorative Fused glass
Commissions
All enquiries are welcome. And whilst I would be more than happy to give a quote please note that this is likely to be an estimate only and to bear in mind that the final costing will be determined by the size of the project, complexity of design, choice of materials and the choice of finishing and application.
Your custom is valued and as a professional artist you can expect a high level of service. You will find me friendly, extremely approachable and totally committed to creating an individual quality hand crafted custom piece of artwork. To discuss ideas, options or quotes then please contact me either by email:
laura@wildhareglass.co.uk
or telephone
07773 650615
. On site visits can be arranged by prior arrangement.
Stained Glass /Copperfoiling Classes
Why not come and learn a new skill in a traditional craft and discover how to create and make your very own custom made Stained Glass panel or Copper foiled suncatcher in a relaxed and informal environment. The course is aimed at beginners and will teach you the basic skills in which to continue on as a hobbyist or to take it onto the next level.

What's covered......
For each process yo
u will learn how to use the specific tools, equipment of the trade and the materials used
:-

Stained Glass panel:

Design, Drawing a Cartoon (as it's called in the Trade!), Cutting Glass, Leading up, Soldering, Cementing and Polishing.



Copperfoiling: Design, Cutting glass, Grinding, Foiling, Soldering, finishing and Polishing.

What's included on the day.......


All the necessary tools and equipment for use during each session.


All materials are supplied for the purpose of making a panel.
Light refreshments will be provided.
Classes offered.......
Stained Glass for Beginners - 2 Day Course (Min 3 / Max 4 people)
Copperfoiling for Beginners - 1 Day Course (Min 2 /Max 4 people)
2018 Course dates - to be advised

2-day Stained Glass Course @ £160 pp
1-day Copperfoiling @ £90 pp
Further information advised on application
. Terms and Conditions apply.
Gift vouchers are available on request.
For more information or to make a booking please contact me by:-
email:
laura@wildhareglass.co.uk
or telephone
07773 650615
---